It's Mighty Mommy Monday! Abbie of Farmer's Daughter and I have decided to challenge you on a weekly basis.  Claim the Mighty Mommy title for yourself — every day, not just Mondays. Every week, we'll host a link up for you to tell us what you're doing to take care of your health: workouts, menu plans, how to keep your family active, etc. I've set a few goals for 2014, but my biggest is to swim a total of 30 freestyle miles this year AND run a half marathon in October! Join us!
I'm having a skinny day. You know what I mean? The kind of day where your yoga pants are actually flattering and you have energy and the soreness that has been plaguing you after every run is so minimal you forget that you pounded out 2 miles this morning only needing to stop to walk a few times. That kind of day. It's the kind of day when I feel like I will never "cheat" on the diet or the exercise plan because I feel so. awesome.
Now, rewind to a few weeks ago when I could barely make it through half a mile and then wasn't able to walk for two days after. I hated exercise. I was mad about my weight and the apparent inability to lose. I stood in my kitchen whining about how there is absolutely nothing to eat in a gluten free diet. On that day I was *this close* to throwing in the towel and taking the max dose of one of those pills they advertise all the time on tv for making people lose weight.
I don't like days like that. But the reality is that no matter how great I do on my race times or my weight, I will feel down and defeated. It's life. What I choose to do with, how I choose to modify my plan or my attitude, that is what determines how my day continues to go. Along the way, there will be struggles and binge eating and crappy nights.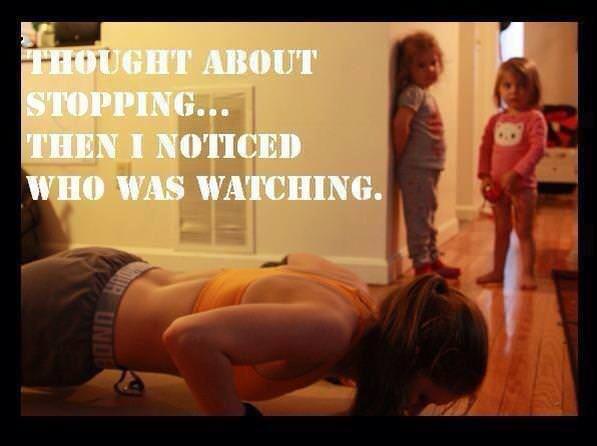 But I'm trying to make this point today that no matter what my attitude is, I still have an audience. No, not you. Not really because you only see what I choose to share. My audience watches the Disney channel and runs up and down the stairs asking for snacks while I debate how many minutes I really want to run for. They see me wigging out in the kitchen because I want to eat something I can't have. They watch me make decisions and watch my attitude as it ebbs and flows with enthusiasm. So yes, those bad days happen and my yoga pants are not often all that flattering, but there are still eyes watching how I chose to handle it. I read once that the words we speak are the ones that become our children's inner voice; I want the voice that my children have inside them to be one that acknowledges the struggles and the pain but has a plan the ends with them being their best self no matter how hard it is to get there.